Intake Team Manual
1 The Intake Team:
Last updated: July 2020
1.1 Purpose
The Intake team are the gateway to accessing the services of the Local Government and Social Care Ombudsman.
The objective is to provide an accessible and knowledgeable front-line service to members of the public. The team handle all new enquiries and re-submitted complaints via phone, online and post.
Their role is to identify premature complaints, to filter out all misdirected and incomplete contacts and to send viable complaints to the Assessment Team.
1.2 Structure
The Customer Service Manager leads two Intake Team Leaders (ITLs) and 13 Complaints Advisors (CAs) and one Administrative Assistant. The ITLs supervise the advisors and lead day-to-day operations, as well as delivering a personal share of the team's first contact work.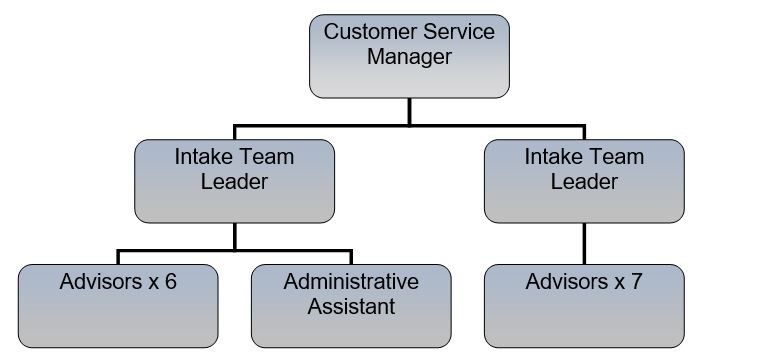 There are two reporting lines for management purposes, however the team will act as one unit. There are three major tasks – phones, post, and electronic correspondence. The ITLs will assign and rotate these responsibilities daily or weekly according to resource and demand.
Advisors will deliver all aspects of the role to maximise flexibility to respond to changing patterns of demand.