Effective Complaint Handling – Open Online Course for Councils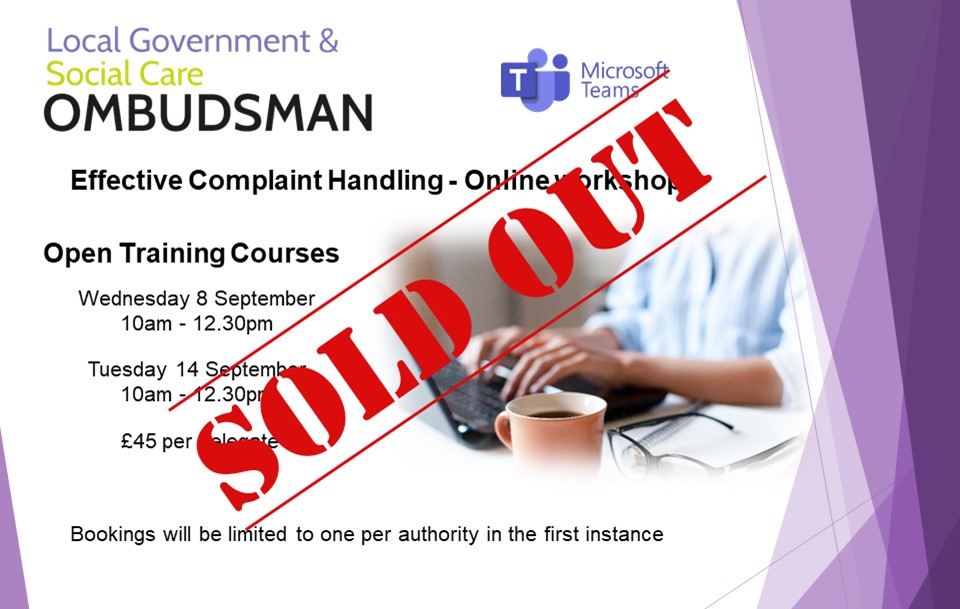 About our course
Our online course in accepting, investigating and deciding complaints for councils.
Key details:
Open course for council and care provider staff.
Two and a half hour workshop delivered online
£45 per delegate
An online skills course investigating complaints delivered by experienced Ombudsman staff. Participants can draw on knowledge gained from our experience of over four decades of complaints investigation, decision-making and remedy recommendations.
Staff dealing with complaints at the higher stages of the process, such as managers and corporate complaints officers
Staff who investigate and make decisions about complaints
Defining and analysing complaints
Planning investigations
Making the best use of sources of information
Evaluating information and making sound decisions
Communicating decisions effectively
Resolving and learning from complaints
The trainer offers guidance and tips throughout the day on applying our principles of good practice in investigating complaints. The course is interactive, using a variety of activities and materials including:
Participants' experiences of making complaints and our experience of what can go wrong
The Ombudsman's overview of a complaint investigation and the principles for resolving complaints
How your organisation can learn from complaints
By the end of the course learners will be able to:
List five things that are important to people when they complain
Describe the stages of the complaint handling process
Accurately identify, define and summarise complaints
List five sources of evidence useful for investigations
Identify appropriate elements of a comprehensive decision letter and proportionate remedies for injustice
Discuss how learning from complaints can be used to drive service improvements