Information for Link Officers
The Ombudsman's Processes
Our processes can be described briefly as follows: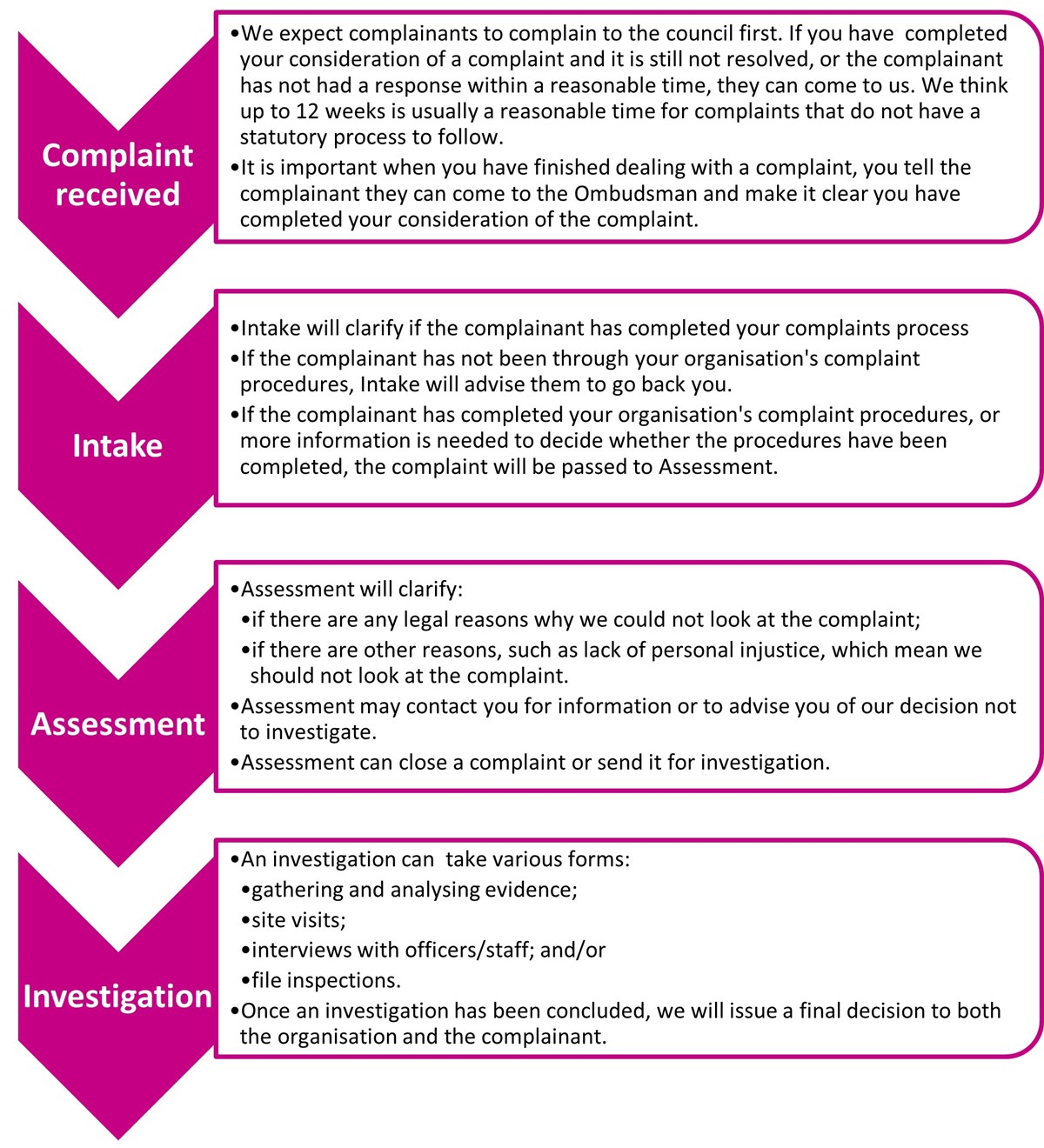 More detailed information about each stage of the process can be found in the manuals which are available here.
Our staff will often contact a council or authority because we need extra information to decide whether we could or should investigate a complaint, or to make a decision about whether there has been any fault in how a council or authority has acted.
The LGA 74 gives us the powers of the High Court to require the production of evidence or witnesses. While we do not often use those powers formally, we can, if necessary, serve a warrant for information to be provided. Other court decisions, such as the Family Procedure Rules 2010, do not restrict a council's or authority's ability to provide us with the information we require.
Responding to the Ombudsman
Ideally, we would like you to respond to us by email. There is a 20MB limit on incoming emails so you may need to break information down into smaller subsets. We encrypt and authenticate email in transit by supporting Transport Layer Security (TLS) and Domain-based Message Authentication, Reporting and Conformance (DMARC). We support TLS version 1.2 and later for sending and receiving email securely. We also use additional encryption (Egress Switch) when sending email if it meets our criteria for additional encryption - this is set out in our Information Security Policy on our website.
Where we write to a council or authority we will address the letter to the chief executive or chief officer as they are the appropriate representative of the council or authority as a legal entity. We will however send the letter to the link officer designated by the council. If you realise that two different investigators are contacting you about the same complaint/issue but from different complainants, please let us know so we can link the two investigations together.
All case records are held on our complaints database, including the evidence supplied by a complainant, the council or authority concerned, or any third party. Our complaints database will only accept the following file types:
| File type | Description | File type | Description | File type | Description | File type | Description |
| --- | --- | --- | --- | --- | --- | --- | --- |
| Avi | Movie | Jpeg | Image | Swf | Flash | Xlsx | Excel |
| Bmp | Image | Jpg | Image | Template | Template | Xml | XML |
| Css | Style sheet | Mht | Webpage | Tif | Image | Xsl | XML |
| Doc | Word | Msg | Email | Tiff | Image | Zip | Compressed |
| Gif | Image | Png | Image | Wav | Sound | Htm | Webpage |
| ppt | Powerpoint | Wma | Sound | Html | Webpage | Ppt | Powerpoint |
| Wmv | Movie | Jpe | Image | Rtf | Rich text | Xls | Excel |
Because of data protection risks, we cannot accept documents that include embedded documents. Please do not send us any information that includes embedded documents (which appear as a small picture of a document which opens up the document when you click on it).
Instead please only send us the information we have asked for as attachments. If you do share embedded information with us, we will delete it on receipt and ask you to resend it as attachments.
Confidentiality and disclosure
Complainants can make subject access requests under the Data Protection Act (DPA), or Freedom of Information Act requests for complaint file material. We follow the Information Commissioner's guidance that material on complaint files constitutes the complainant's personal data, so any material sent to us is usually disclosable under the DPA, unless one of the exemptions apply. (We do not generally disclose any information from complaint files in response to a Freedom of Information request). We have had cases where we have had to disclose information a council or authority has not wanted to be shared with the complainant because it had provided evidence over and above what we had asked for or what was necessary. Therefore, it is important to only send us what we ask for.
Section 32(3) of the LGA 74 allows a council or authority to serve a notice on the Ombudsman to keep information confidential where disclosure of the document would be contrary to the public interest. Where a council or authority feels a 32(3) notice needs to be served, the document(s) it relates to should be clearly marked and the council or authority should explain in writing why the information should not be disclosed and clearly mark it as such. For example, a complaint about procurement processes may involve us looking at all the bids received and it would not be appropriate to share all the bid details with the complainant. A section 32(3) notice must be sent to us by post; an email or letter attached to an email is not sufficient to meet the requirements of the LGA 74. If we disagree with a council or authority about the 32(3) notice and this cannot be resolved, we can apply to the Secretary of State to discharge it.
It is not necessary to serve a 32(3) notice on third party information as the Ombudsman cannot disclose this to a complainant under DPA rules. The council is often best placed to decide what can and cannot be disclosed to a complainant. To help us reduce the risk of inadvertent disclosure, if you are sending information which you consider should not be disclosed:
please clearly identify it and say why it should not be shared;
send it separately to the information which can be shared;
send a redacted and non-redacted version;
please bear in mind that names and contact details of your own staff and those employed by other organisations are third party information;
if any of your documents contain details of individuals with whom the complainant has had no previous contact and which are not publicly available, please provide two copies: one that has this personal information redacted and a non-redacted version.
The LGA 74 states that our investigations should be conducted in private. As such, neither a council, authority nor a complainant should publish any correspondence about the complaint. If a council or authority receives an FOI request about a specific complaint that has been to the Ombudsman, it should not disclose any information whatsoever, citing section 44(1)(a) of the Freedom of Information Act; this includes whether a complaint to the Ombudsman from a specific individual even exists. If the request is about general statistics and complaint numbers, a council or authority can signpost the requestor to the relevant section of our website where we publish statistics on complaints received against bodies in jurisdiction - http://www.lgo.org.uk/information-centre/councils-performance
When someone from an Assessment Team contacts you
The process for deciding whether to investigate has two stages. Firstly, we decide whether the LGA 74 allows us to investigate. Next, we apply several tests. The most important of these is assessing the level of injustice.
We will not normally investigate a complaint unless there is good reason to believe the complainant has suffered significant personal injustice as a direct result of the actions or inactions of the organisation involved. This process takes place during our Assessment stage and you can find out more information by looking at our Assessment Code.
A member of one of our Assessment Teams may contact you for further information to help them decide what should happen with a complaint. This may be for copies of your complaint responses to the complainant, or for copies of documents that relate to the complaint. Our Assessment Teams are expected to make a decision about whether we should investigate a complaint within 20 working days of us receiving it so they will ask you to provide information quickly. However, at this stage in the process, they will only be asking you for information you already hold, not to generate new material. It is helpful to us if you can provide the information electronically within the timeframes requested so we can make these quick decisions. It is also beneficial to you to respond quickly as it may prevent a complaint being sent for full investigation, which would place a greater burden on your resources.
If Assessment decide the case needs passing to Investigation for further consideration, all the information already provided by the council or authority and the complainant is passed along too.
Our Assessment Manual gives more detail about our assessment processes.
When someone from the Investigation Team contacts you
If a complaint has been passed for a full investigation, we will often need to ask you for detailed information about what happened.
A council's or authority's response to our enquiries is its opportunity to set out its actions, explain the basis for its decisions and show that it acted properly. Alternatively, if in preparing the information, it finds there were faults in its process, it is the opportunity to recognise this, apologise and possibly suggest a remedy that it could provide to the complainant.
Our investigators will write to you setting out their enquiries. It is important that you respond fully to any questions put to you and provide evidence to support what you say. However, please only send the evidence our investigators have asked for, unless you feel there is a crucial piece of information we should also see. If you are not sure whether to include a piece of information, please contact the investigator directly to discuss. For fairness, we aim to share any evidence that we rely on in reaching a decision. This is so complainants can understand how we make our decisions. This does not mean we share all the documents with complainants. We must abide by data protection law. We will not share any information about a third party or that is confidential for another reason. (see Confidentiality and Disclosure).
Sometimes we will ask you to provide a chronology of events relating to the complaint. Putting these into a Word table is a very clear and effective way of communicating this type of information as an extra column can be added to identify the relevant piece of evidence for each event in the chronology.
Rather than send us your response and supporting evidence in a piecemeal fashion, please wait until you have the full response to send to us. If your response is likely to be delayed, please inform the investigator as soon as possible, providing reasons why. We understand that in complex cases it can sometimes be difficult to respond to our enquiries in time. When we agree an extension, the response will still be noted as late. This is so we can identify any patterns of repeated extension requests.
We ask councils and authorities to ensure that all those involved in the events surrounding a complaint are given the opportunity to respond to the complaint; this includes ex-employees and contractors. It is a legal requirement that any person or body directly involved in the actions complained about are made aware of our investigation and have an opportunity to comment. Current employees should provide their comments along with the council's or authority's response to our enquiries, however ex-employees and contractors can, if they choose, contact us directly.
Should a current employee contact us directly as a 'whistleblower', this is a separate issue covered by the Public Interest Disclosure Act. Such evidence can be taken into account but it does not form part of the corporate response to our enquiries. In such cases, our staff will need to take legal and management advice about how the information should be used and how it will be communicated to both the council or authority and the complainant.
Our Investigation Manual gives more detail about our investigation processes.
File inspections and officer interviews
Occasionally an investigator will need to see the full file or interview the council or authority officers or members involved. The investigator will contact the council or authority to make arrangements to visit the offices to carry out the tasks they need. If they need to interview officers or members, they will send you the details of who they need to see. If you feel they also need to see others, you should tell the investigator. The investigator will send you a set of notes that should be provided to each interviewee before the interview. Interviewees can, if they wish, have someone to sit with them during the interviews however this should not be a manager from the service, someone from the complaints section or a legal officer of the authority. The officer or member being interviewed should also have the opportunity to look at the relevant authority documents or files before the interview.
When carrying out file inspections or interviews, investigators need somewhere quiet and private. If they are reviewing the file, they will need an officer available to show them how any electronic systems work or to operate the system for them. They may also need facilities to print or copy relevant documents from the file.
Interaction with the complainant while we investigate
You do not have to continue responding to the complainant about the matter we are investigating while we investigate. If your view of the complaint changes during our investigation you may wish to suggest a remedy for any injustice that may have been caused. If this is the case speak to your investigator.
When it comes to front line services, we cannot tell a council what to do while we are considering a complaint. The law says the council should continue to deal with things in the normal way. This includes any annual reviews or assessments that are due, including those that become due while we investigate.
In some cases, we will ask a council to consider putting specific actions on hold (e.g. debt recovery/ enforcement) until we have completed our investigation. This is because the outcome of our investigation will have a direct impact on whether to proceed with that action. Carrying them out during our investigation would therefore avoidably increase the injustice to the complainant.